Sweethearts – America's Favourite Valentine's Day Candy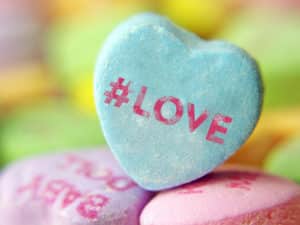 The Origin of Sweethearts
While February may be one of the shortest and dreariest months, the upside is that it is also the month to celebrate Valentine's Day.
From young to young at heart, Valentine's Day provides an excuse to indulge in all those sweet treats associated with love: cinnamon hearts, a box of chocolates, red velvet cake and cupcakes and heart shaped rice crispy treats.
But none are more synonymous with Valentine's Day than conversation hearts candy – known and marketed as Sweethearts – emblazoned with phrases such as "Call Me," "Kiss Me" and "Be Mine". Sweethearts, a small heart-shaped sugar candy that's been around for nearly 150 years, make up 40 per cent of the Valentine's Day candy market, coming in just after chocolate.
Often considered the original candy of love, Sweethearts were created by New England based confectionary company, Necco and are one of America's oldest and most popular candies. The origins of Sweethearts began as a fortune-cookie style candy with quirky messages written on coloured paper – passed around at parties and holidays and popular at weddings. This became what we now know as the heart shaped candy of today with much shorter and snappier catchphrases. "Married in white, you have chosen right" became simply, "Marry Me."
Those Famous Phrases
Sweethearts phrases made their first appearance in 1902 and have always been created to reflect the times. "Be Mine", "Be True" and "Kiss Me" were among some of the original sayings and still remain today. Each year since the early 1990's, Necco adds new phrases to the hearts – incorporating sayings from popular culture such as "Text Me" and "Tweet Me" to appeal to a younger market. Eight new phrases and symbols have been added in 2015: Luv 2 Dance, Pugs & Kittens, Girl Power, Je T'Aime, BFF, Te Amo and two emjoi's – a happy face and mustache.
The company has also added Sweethearts in Spanish language, created a variety called "Dazzled" with tart flavours including Pink Lemonade, Wild Berry Grape, Sour Apple, Watermelon, Extreme Tangerine and Blue Raspberry and even have a sugar-free option with only 70 calories per serving.
Fruity Flavours
Flavours have also changed as a result of the times. Original flavours include banana, grape, cherry, orange and wintergreen. More recently, Necco experimented with blue raspberry, lemon, strawberry and green apple.
Classic Recipe Remains the Same
With a texture often described as dry and chalky, the Sweethearts recipe has remained the same over the years. The batter created to make Sweethearts includes sugar, corn syrup, gelatin, gums, colouring and flavouring.
According to Eater.com, 8 billion Sweethearts are produced annually, with the majority of them sold between January 1 and February 14.
What are your favourite Sweethearts phrases? Tell us on Facebook